Welcome to the English page of Nanzan Aikido Association. Our aikido dojo have been operating at Pécs (Baranya county, Hungary) since 2003. All trainings are open for visitors, so anybody can have a feel, an impresson about this beautiful and efficient martial art, Aikido.
We organize trainings for children and adults, where we accept applications from September to June.
Our head instructor is Norbert Niklai 6th dan (Aikikai) shidoin (former Head of the Grading Committee of Aikikai Hungary).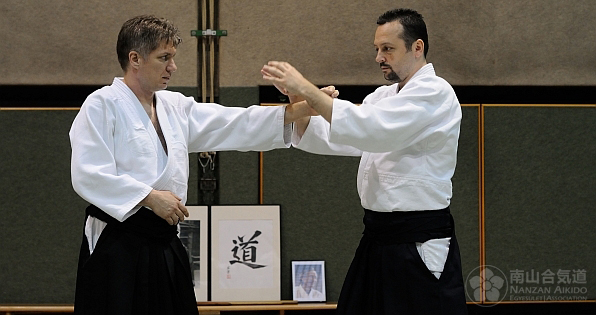 Niklai sensei first met aikido in the late '80s as his brother already practiced in Pécs. He followed him and started aikido in 1990, when he was 15 years old. In 1991 he met with Nobuyoshi Tamura shihan in a summer seminar (Keszthely), who made a very deep impression on him. After that, he participated on all seminars of Tamura sensei in Hungary and also followed him many times to abroad. He feels himself lucky as he managed to take all of his dan exams in front of his master, Tamura sensei.
In 2003 – accompanied by four friends – he decided to open an individual dojo and to found an association. Despite aikido was present in Pécs from the end of the '80s it was the first officially registered aikido organization in the city. Since 2003, eight members of Nanzan Aikido Association have obtained different dan (balck belt) grades. Now, eleven black belt aikidoka practice in the dojo (1st to 6th dan). Until 2009, all dan grades were obtained through Tamura sensei (exams directly held by/later the lower grade exams were delegated). From the end of 2009 Nanzan members participate on Takanori Kuribayashi sensei's (7th dan Hombu shihan) seminars and dan tests in Hungary and abroad. Nanzan Aikido Association follows the rules and spirit of Aikikai.
As a result of Kuribayashi sensei's recommendation, Norbert Niklai received 5th dan from Aikikai in the beginning of 2014. He received 'shidoin' intructor certificate in 2015. Followed the promotion of Aikikai Hungary, he recived 6th dan from Aikikai in 2020.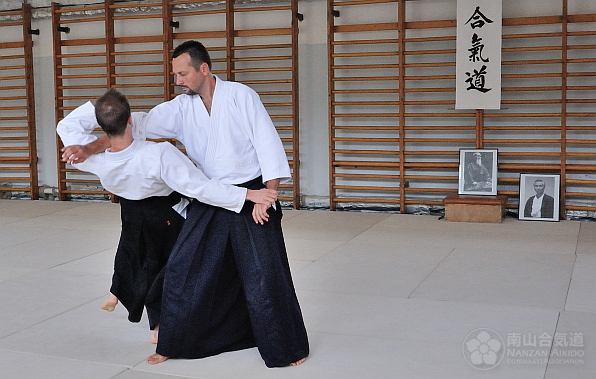 Trainings:
Children group
Tuesday and Thursday 17:00-18:00
Junior group
Tuesday and Thursday 18:15-19:45
Adult group
Tuesday and Thursday 18:15-19:45
Intermediate and beginner aikidokas practice in the same time but in different groups. Norbert Niklai leads the intermediate trainings while Zoltán Varga 5th dan (Aikikai) fukushidoin – by the guidance of the head instructor –  helps the work of the beginner gorups.
No matter you live here, study here or just passing thru: visit us, You will be always welcome!